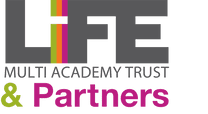 THE LIFE MAT & PARTNERS
LiFE MAT and Partners is a unique cluster of schools in the west of Leicestershire.  We offer a range of experiences where you will develop your potential as a teacher.
Our vision is:
To improve outcomes for all in our 11-19 schools through the development of outstanding teachers for the future.
To strengthen our capacity through collaboration between, and within, our schools and higher education partnerships.
To support all by sharing outstanding professional development.
To lead developments in the personalising of career development plans.
We offer you:     
The opportunity to participate in a coordinated series of professional experiences led by good and outstanding teachers
An expectation that successful graduates of this programme are likely to be offered employment in our cluster of schools
The maximum possible amount of time working with students and developing the skills to become an outstanding teacher.
The earliest possible opportunity to get into classrooms and make a difference to students' life chances.
For further information please contact the Lead School GROBY COMMUNITY COLLEGE.
Email: mbearne@grobycoll.com
Tel:     0116 287 9921